To create a thriving, safe, resilient and connected community that is well-served by amenities, Tauranga City Council has developed some proposals and ideas for the new community – where houses, open spaces, schools and other facilities could be located, as well as ways to protect the natural and cultural environment.
We're proposing:
A range of housing choice, styles and densities
A relocated and expanded school supporting current and future communities' needs. Potential for a new high school
Integrated neighbourhood parks and sportsfields
A local centre – providing for a collection of several shops and services including opportunity for a small (convenience) supermarket, GP surgery, pharmacy, café, takeaway, service station and possibly public toilets
A Wairoa River Reserve – with a playground, access to the river, walkways along the length of the full river corridor and water access; and which celebrates the historic and cultural importance of the awa (river)
To recognise sites of cultural significance to mana whenua and preserve and enhance those areas
To protect our waterways and wetlands
Connectivity through street design and open space planning
A road network that promotes sustainable modes of transport such as walking, cycling and public transport over private car use.
The vision document shows what Tauriko West could look like, integrating what we're proposing for the new community.
Tauriko West vision document (8.6mb pdf)
Building a community at Tauriko West will require changes to the City Plan as part of the Resource Management process. Currently, the land is zoned rural and needs to be rezoned for residential development. Subject to the required planning processes, it is expected that the first houses will start being built around late-2024 or early-2025. Preliminary processes, such as the change to the urban limits line (Bay of Plenty Regional Council) and local government boundary alteration (Western Bay of Plenty District Council) have been completed (scroll down for more information).
Densities in these new communities are expected to be lower in the first ten years (20 to 25 dwellings per hectare) and will reach an average of 30 dwellings per hectare over time.
A draft landuse plan has been prepared to show the extent of land likely to be developed for:
Residential development areas, proposed to provide for a mix of housing typologies
Riverside reserve
Multimodal connections to the existing Tauriko Business Estate and wider city
Opportunities to connect walkways/cycleways along the length of the Wairoa River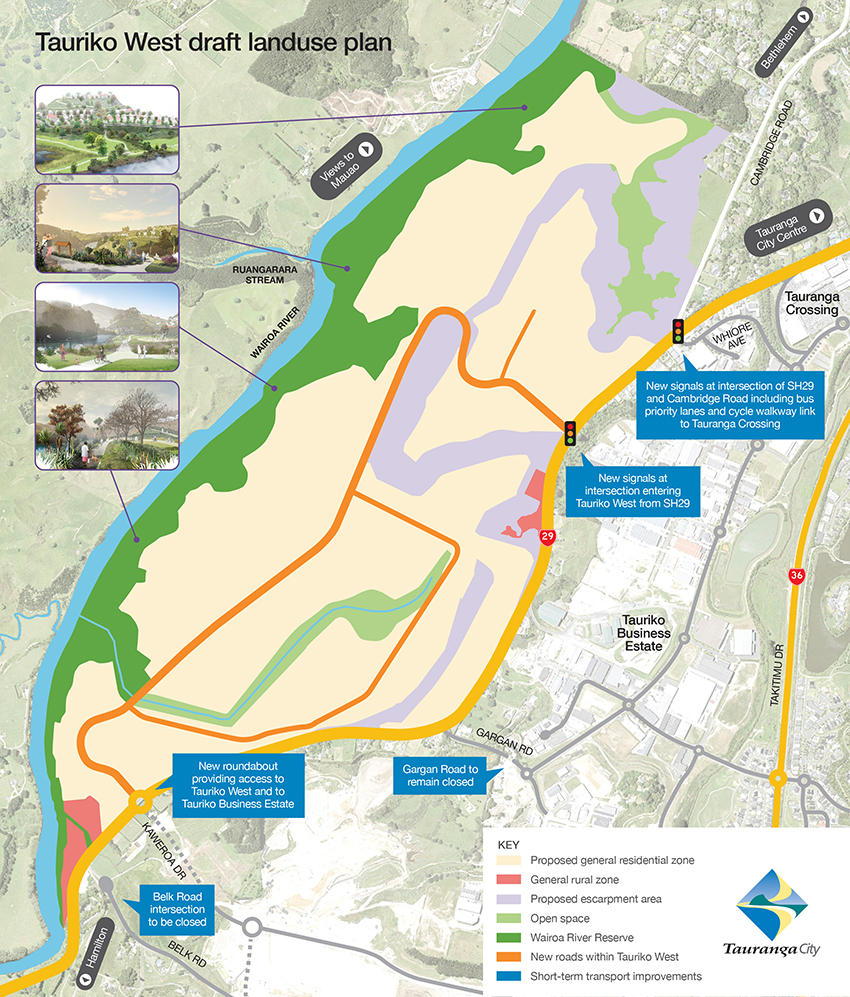 The urban limits line
The urban limits line has been changed and Tauriko West is now within the current urban limit, allowing for urban growth to occur in the area.
Find out more about the Regional Policy Statement.
The boundary change
The boundary change took effect on Friday 1 January 2021, bringing 189 hectares of the proposed urban growth area at Tauriko West into Tauranga City Council's jurisdiction. The Local Government Commission consulted with affected property owners and the public in March/April 2020 on the proposed boundary alteration. The Commission received 12 responses which were considered at a meeting on 21 May 2020. As a result, a reorganisation plan was developed and approved by the Governor-General.
Find out more about the Local Government Commission's process.
Find out more on the role of Western Bay of Plenty District Council in making the original application.
Sign up for our email updates
Throughout the process we will be going out to the community and stakeholders to provide information and gather ideas and feedback. This will include open days and workshops, surveys and regular updates via mail, email and on this website.